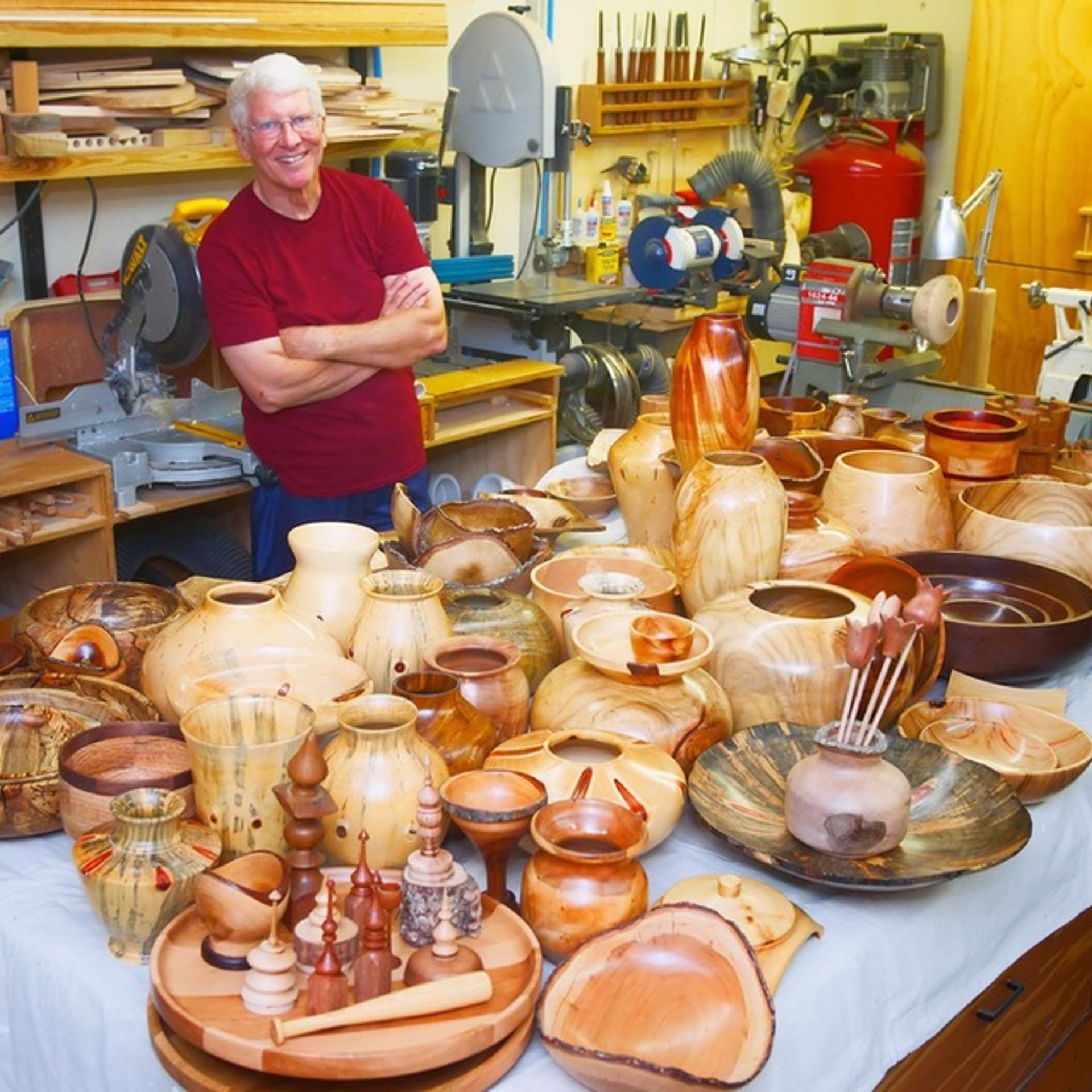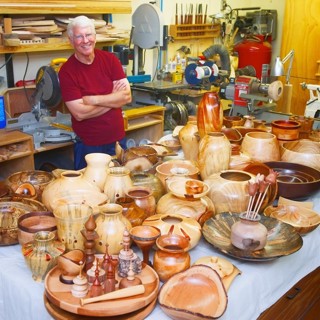 As long as I can remember woodworking has been part of my life. As a young boy, my father taught me many basics in his shop. When we visited family, my uncle and both grandfathers did woodworking. My grandfather's lathe now resides in my shop.
The ability to pull a log or part of a tree out of the firewood pile and on to the lathe, then make something beautiful, is mesmerizing. A friendship with a tree service company exploded my opportunity to turn larger hollow forms, vases and bowls.
The shapes and forms I enjoy are the ones that are simple and reveal the natural beauty of the tree. The knots and grain pattern seen in a hollow form is amazing to see. The wood I use comes from trees in urban areas that have to be removed due to blight, disease, or construction. Realizing that this tree grew from a small nut and gave shade and comfort to homes or parks for years, but had to be taken down and now would live on in its second life is very rewarding.
It should be no surprise the work of the Moulthrop family is highly inflluential with my vision as a woodworker. My first thought when I saw an Ed Moulthrop hollow form bowl, was that I wanted to create pieces like that. The simplicity of form with no embellishments, letting the wood be the show, captured me. My wife gave me the book, "Moulthrop A Legacy In Wood," which I consumed and studied.
I attended and joined the monthly meetings of the American Association of Woodturners club in Tampa. Through the club, I was invited to a hands on advanced hollowing workshop with Trent Bosh of Denver, a nationally known woodturner. Shortly thereafter, on a visit to my home town of Atlanta, I visited The Signature Gallery. This was the first place Ed Moulthrop began displaying and selling his work publicly. Being able to pick up and experience a Moulthrop piece for the first time was exhilarating, and it still is. My wife surprised me by purchasing a piece of Philip Moulthrop's in Flame Box Elder. It holds a place on our mantel.
I soon after visited the workshop of Philip Moulthrop. We spent quite a bit of time talking woodturning, wood, finishing, and their unique equipment. Much of their tools and equipment is custom built by them which I have taken up as well. Philip shared the epoxy finishing technique in detail as well as demonstrated Matt Moulthrop's rotating machine for applying the epoxy. My shop now has a similar machine. The enlightenment from my shop time with Philip was greatly amplified when I sat in on his demonstration and lecture a month later at the I attwbdsNational AAW Symposium in Atlanta. Philip and Matt presented their work and technique as well as family history.
Their philosophy of simple shapes and forms letting the wood be the show gave direction to my work. Additional work shops and symposiums with David Ellis, John Jordan, John Beaver, and others have added to my work and technique. While the Moulthrop work has been my dominant inspiration my own style has evolved. Much of my work incorporates natural edges and bark inclusions to give a hint of where the piece grew in the tree. Style is always evolving. When meeting other artists like John Mascoll and Matthew Hatala a new inspiration will show up.
It is very rewarding to be recognized with awards. The Gasparilla Festival of Arts (Tampa) and Mainsail Art Festival (St. Petersburg) have awarded my work Merit Awards and an Honorable Mention at the Mayfair By the Lake (Lakeland).
Read More